Updated: Fri, Feb 18, 3:40pm
We're excited to announce rapid test kits will be available at various community drive-thru pick-up sites. It's Pop-Up, Pick-Up! Rapid test kits are available for people without symptoms.

Why Community Pop-Ups? With the reintroduction of physical distancing and reduced occupancy limits, we are unable to safely distribute kits in-branch or via Library Take-Out. There will be no kits available at CEHPL locations.

Future pop-up dates are dependent on supply. This page will be updated each week.
---
Pop-Up, Pick-Up Schedule: Week of Feb 21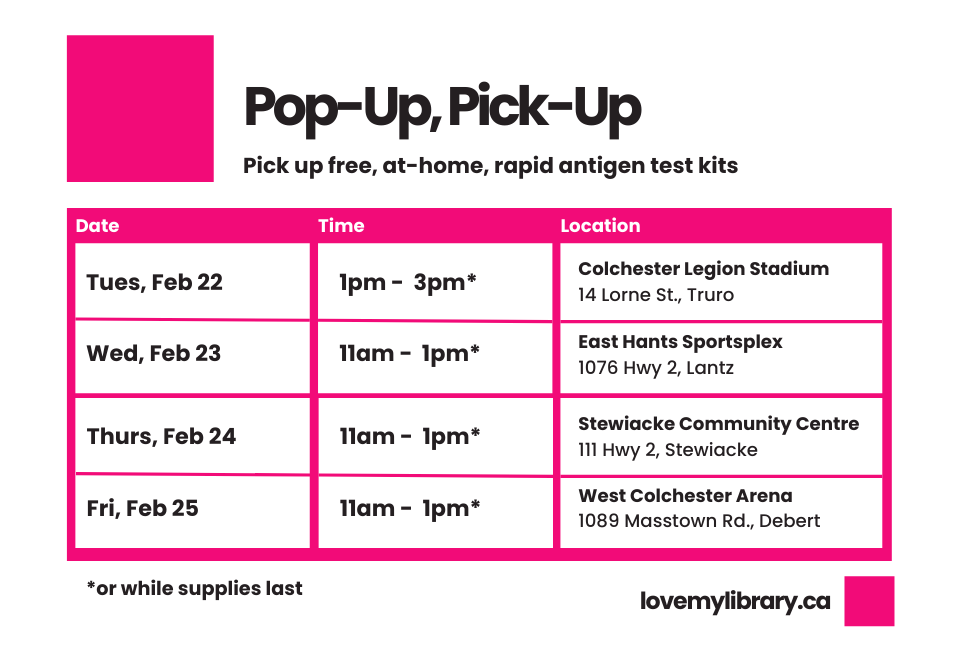 ---
Please do not arrive at the pop-up more than 5 minutes before it opens.

When you arrive at the pop-up, please remain masked and in your vehicle. A staff member will bring the test kit out to you.

Supplies are limited. Kits are limited to two per person, with each kit containing two rapid tests. No exceptions will be made.

Our pop-up staff will stay at the pick-up location while supplies last. Want to stay updated? Follow our Facebook page.

Thank you to our municipal partners for their support with this initiative: Municipality of Colchester, Municipality of East Hants, Town of Stewiacke, and Town of Truro.

Can't make it to one of our Pop-Ups? Visit the NS Health Rapid Testing page for their upcoming dates and locations.